Where can Niyodo Blue be seen? No. 3: Nakatsu Gorge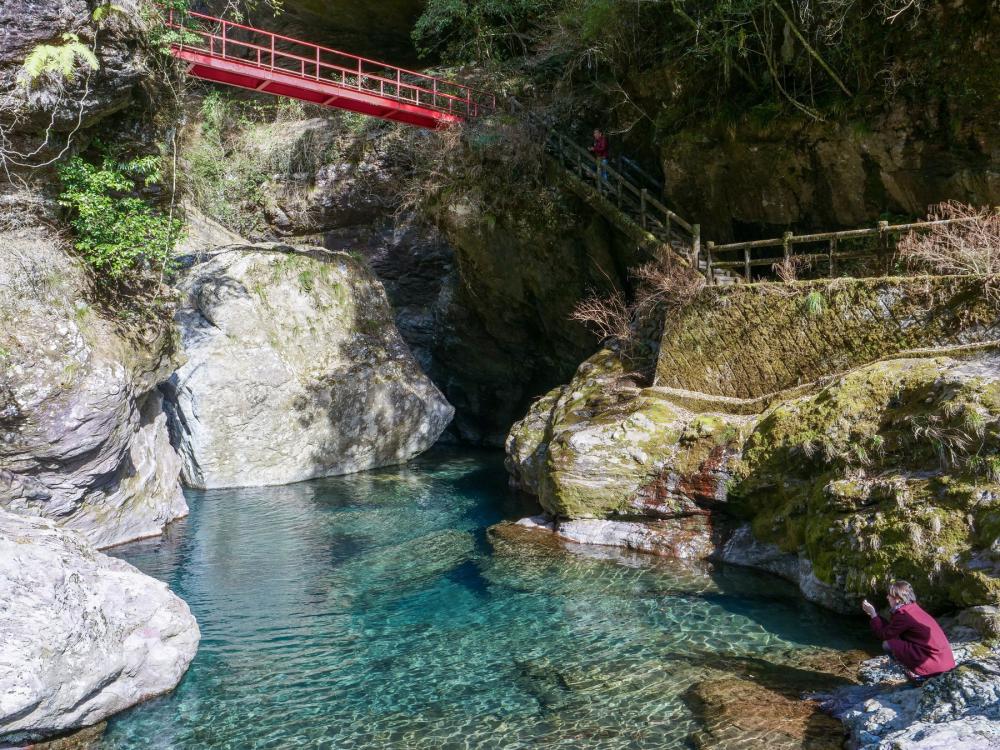 The third place we would like to introduce is Nakatsu Gorge.
Nakatsu Gorge features a variety of scenery such as beautiful forests, gigantic rocks and waterfalls, and had been a popular place before Niyodo Blue became widely known.
Wonderful things to see at Nakatsu Gorge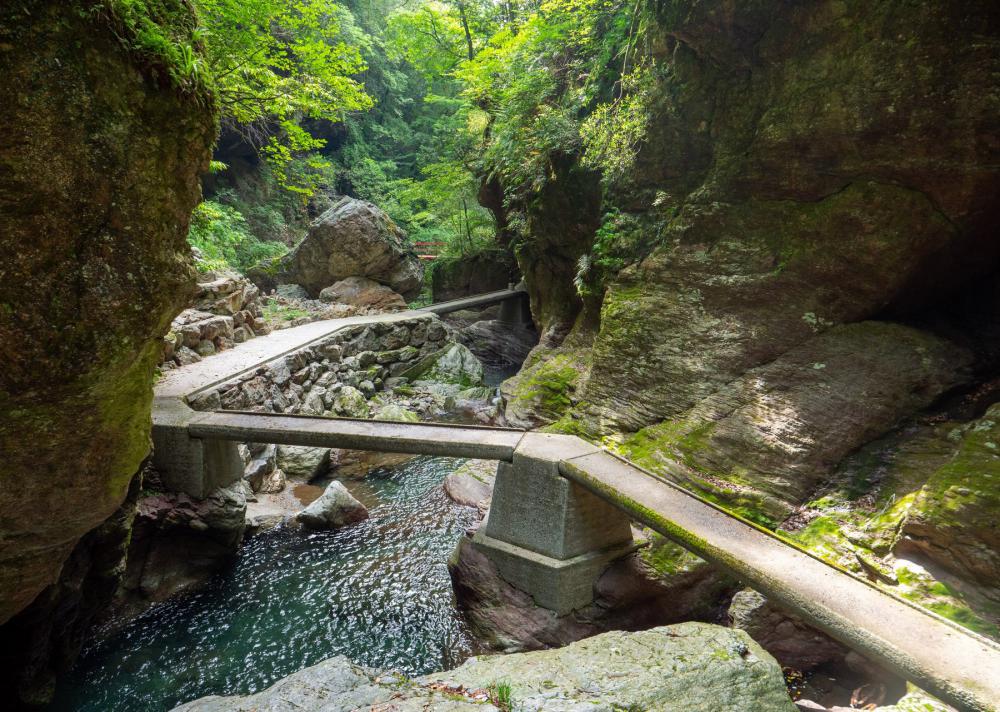 Which is better, Yasui Gorge or Nakatsu Gorge? This is a question we frequently receive and is difficult to answer because each gorge has its own completely different scenery.
If you want to just see beautiful Niyodo Blue, Yasui Gorge is certainly our recommendation, while we recommend Nakatsu Gorge to those who like varied scenery of a river, forests, rocks and waterfalls.
The promenade at Nakatsu Gorge is superbly built. It meanders alongside the gorge, making you feel that you are at the center of the magnificent scenery.
As you walk while enjoying the varied scenery, Uryu Falls, the symbol of Nakatsu Gorge, come into view.
Ryugu Buchi deep water and a number of stone pillars, which are also magnificent viewing places, are located behind Uryu Falls. If you have enough energy and time, definitely go visit the sites.
A round trip from the entrance of the gorge to the stone pillars via Uryu Falls takes about one-and-a-half hours.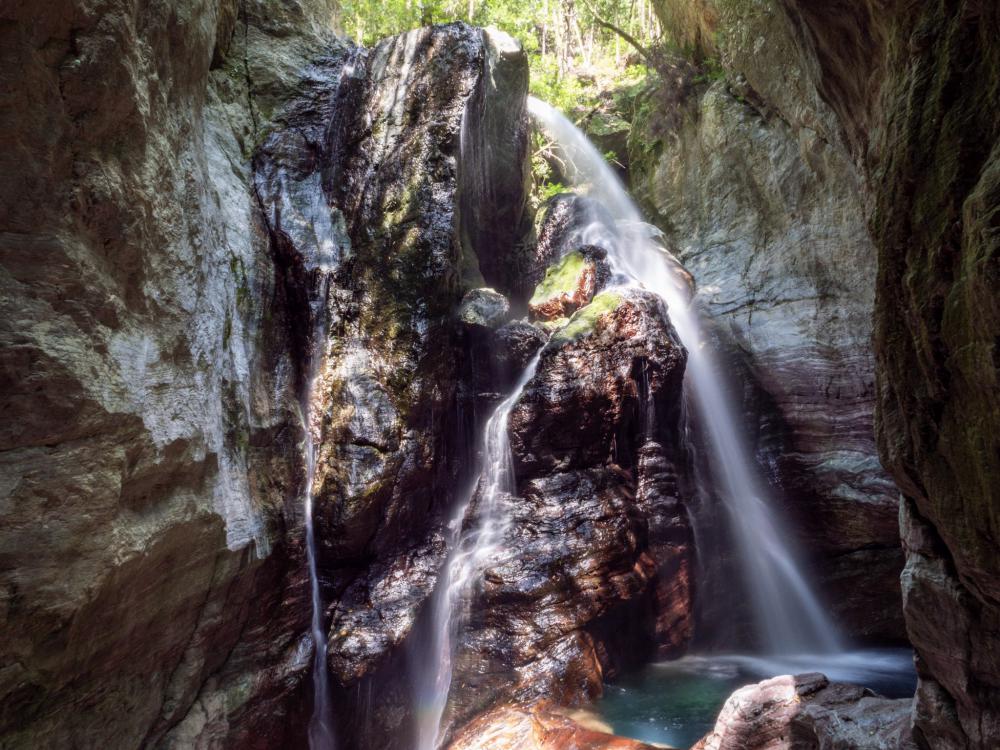 About means of transportation
As with the other places, you are recommended to go to Nakatsu Gorge by car or taxi.
It takes about one hour and 20 minutes from Kochi City to reach the gorge. From Matsuyama, it takes about one hour and 40 minutes, which is unexpectedly nearer than expected.
Although driving via the expressway is the fastest route by car between Kochi and Matsuyama, you are recommended to take National Highway 33, which runs through an area dotted with magnificent viewing places, including Nakatsu Gorge.
The parking lot at the entrance of Nakatsu Gorge has only three spaces, but the former Nanokawa Elementary School's playground, 100 meters before the gorge, has about 30 spaces, and is open to the public for parking.
Signs (in the picture) guide you to the areas for parking.
How to get to Nakatsu Gorge using National Highway 33 (from the end of Kochi Nishi By-pass)
http://niyodogawa.seesaa.net/article/474860164.html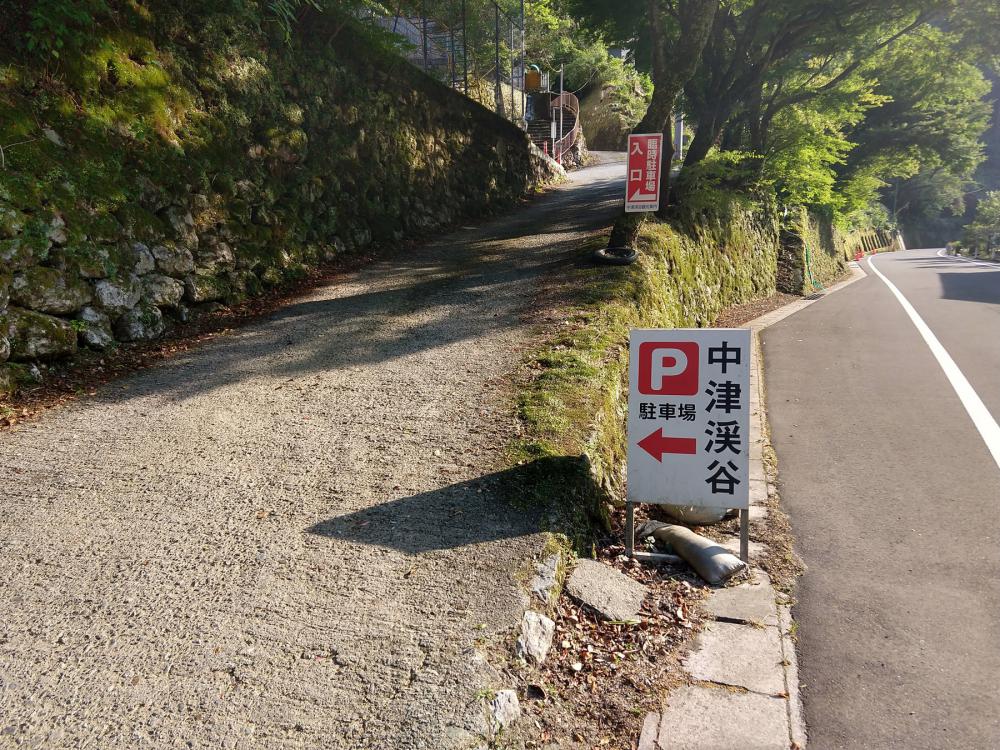 One of the attractions of Nakatsu Gorge is that it is relatively easily accessible by a fixed route bus service.
JR Kochi Station ⇒ JR Sakawa Station ⇒ Ride a Kuroiwa Kanko bus (fixed-route bus) bound for Kariyamaguchi or Kawado.
Bound for Kariyamaguchi: Change at Tosaosaki for Kawado or transfer at Tosaosaki to a town bus that runs by Nanokawa.
Bound for Kawado: Get off at Nanokawa.
After getting off at Nanokawa, cross the road at the traffic light and walk up a hill about 700 meters. There you will find the entrance to Nakatsu Gorge.
The number of buses bound for Kawado or return buses are low.
Many of buses from Sakawa Station go only as far as Osaki, which is an en route bus stop. Be careful not to ride the wrong bus.
Please note that buses bound for Kawado (and from Kawado for Sakawa) don't run on some days of the week.
Travel time by train and fare: About 30 minutes by limited express (560 yen + non-reserved seat for limited express: 530 yen), about 60 minutes by local train (560 yen)
Please refer to Kuroiwa Kanko Bus's website for details.
http://kurokan.net/charge.html
※【 Notes 】※
◎You can go sightseeing at the gorge throughout the year. The gorge, however, can become very crowded during the Golden Week holiday from late April to early May, the Obon holiday in mid-August, and Saturdays, Sundays and holidays in November.
◎Please use the parking lot at the former Nanokawa Elementary School's playground located before the entrance to the gorge. Yu no Mori (the accommodation facility in front of the entrance)'s parking lot is available only for people who use the facility.
◎Swimming is not prohibited in the gorge, but please be considerate to people visiting for sightseeing. As there are some dangerous areas that are deeper or flow faster than other areas, swim at your own risk.
◎Please take your trash with you.
◎The gorge is a prefectural park. You are not allowed to pick up plants and bring stones home with you.
◎The promenade is slippery. Please wear comfortable walking shoes.
◎There was once an accident in which a person fell off the promenade because he/she became absorbed taking pictures. So please be careful.
◎If you use a fixed route bus, please check the operating days and arrival and departure times in advance.
Staying at Nakatsu Gorge!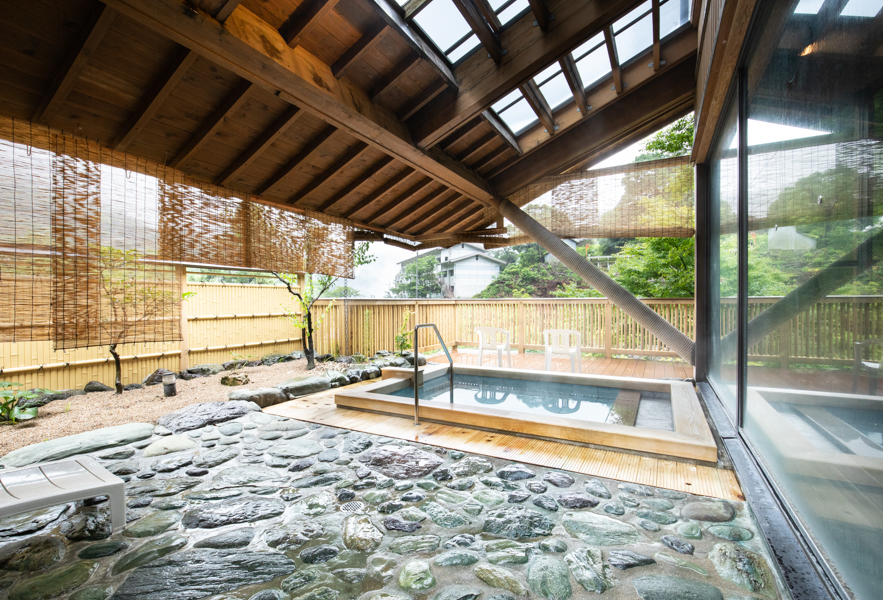 There is a hot spring hotel called Yu no Mori at the entrance of Nakatsu Gorge.
This very popular hotel has only three Japanese-style guestrooms and three Western-style cottages, which tend to book up quickly.
It is also known for its delicious dishes, with a choice of Japanese or French cuisine.
One of the advantages of staying at the hotel is that you can walk along Nakatsu Gorge in the morning without anyone else around.
Recommended neighboring place to visit No. 1: Sanson Shizen Gakko Shimona no Sato accommodation facility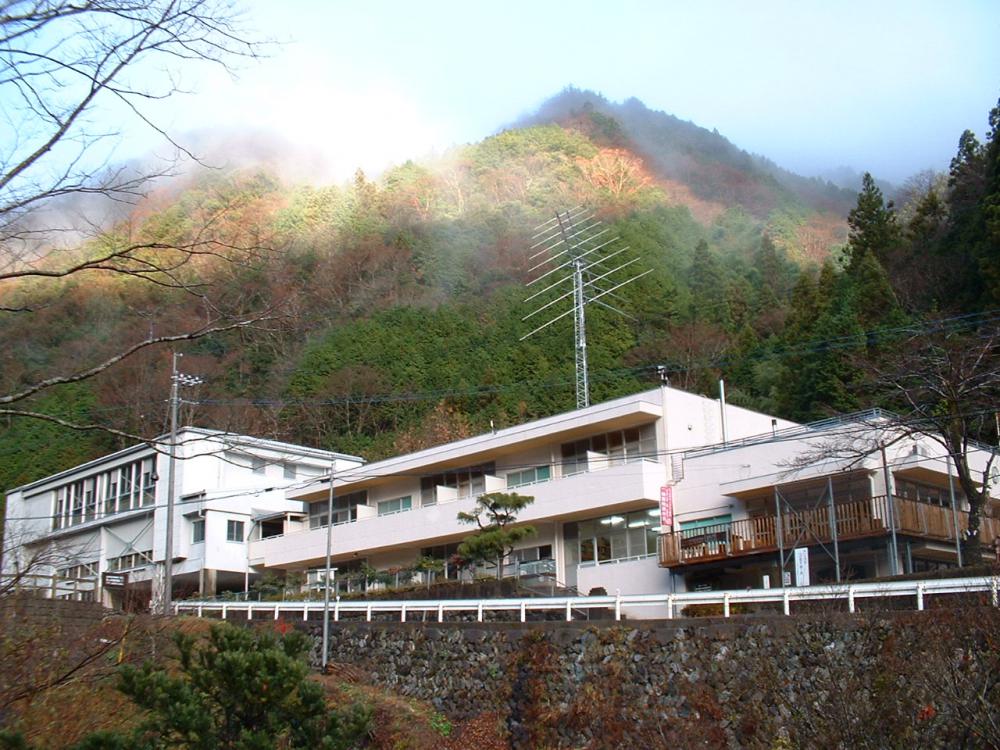 Located 10 minutes up the river from Nakatsu Gorge by car, Sanson Shizen Gakko Shimona no Sato accommodation facility is named after the area, which is called Shimonanokawa.
Remodeled from the closed Shimonanokawa Elementary School, it is used as a community activity center and an inn.
The guestrooms are beautifully renovated and very comfortable. Many local dishes are served at dinner.
Also, the facility provides various experience activities, such as fishing for amago trout and baking a pizza.
A craft beer brewery has opened near the facility, allowing you to enjoy craft beer amid the natural landscape.
Recommended neighboring place to visit No. 2: Nature Resort in Niyodo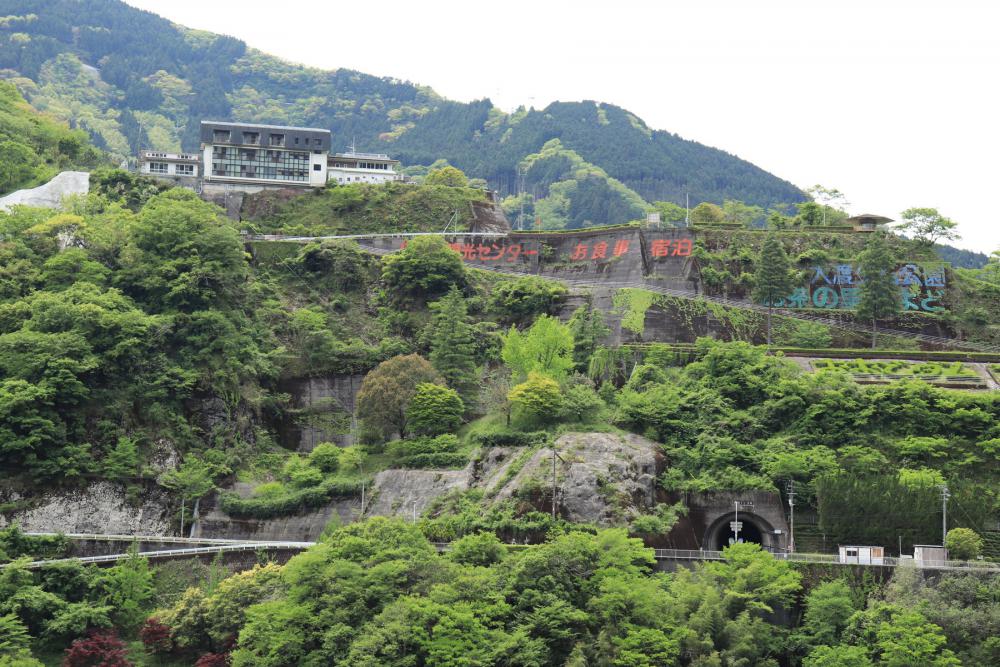 Located about 10 minutes' drive from Nakatsu Gorge, Nature Resort in Niyodo stands on high ground, giving you a panoramic view of Odo Dam. You can enjoy a scenic view of Odo Dam in front of you and towering mountains on the other side of the river from the guestroom.
The Japanese inn has a museum of history and folklore displaying documents on Akiba festival that is a tradition in the Besshi community, which is free to visit.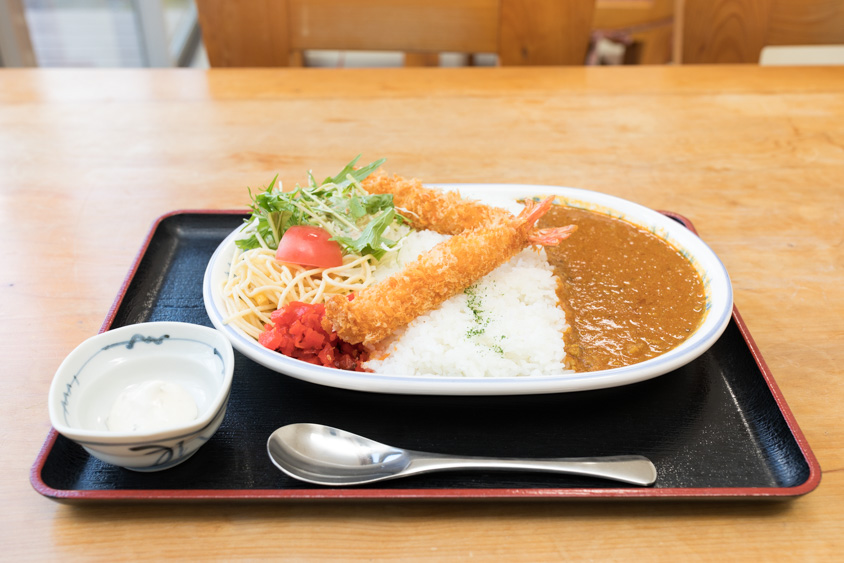 Recommended neighboring place to visit No. 3: Cha Cafe Asunaro
Cha Cafe Asunaro, managed by local tea farmer Viva Sawatari, is a cafe opened in March 2018 where you can enjoy a magnificent view.
Located 15 minutes' drive from Nakatsu Gorge and near the border of Ehime Prefecture, it stands alongside National Highway 33.
Filled with a pleasant aroma from a tea incense burner, the cafe gives you a panoramic view of Lake Sagiri, which is formed by the creation of Odo Dam, from the window.
The cafe serves not only a wide variety of desserts but also other dishes. The Asunaro Set Meal is elaborate and highly recommended. Also enjoy Sawatari tea in a teapot.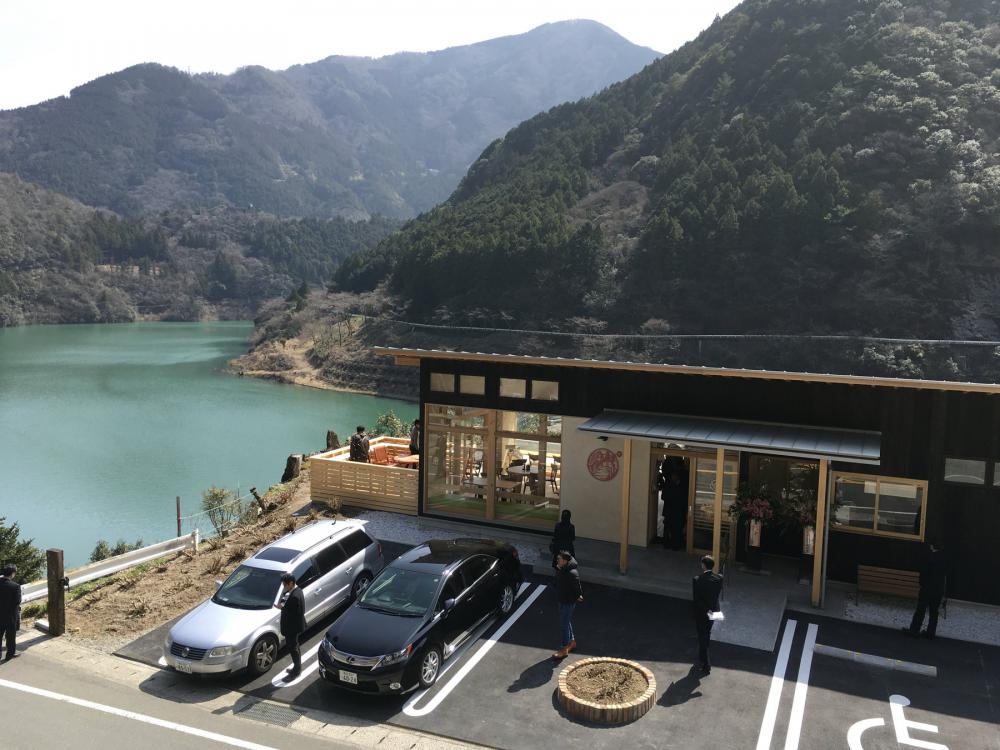 Recommended neighboring place to visit No. 4: Drive-in Hikichibashi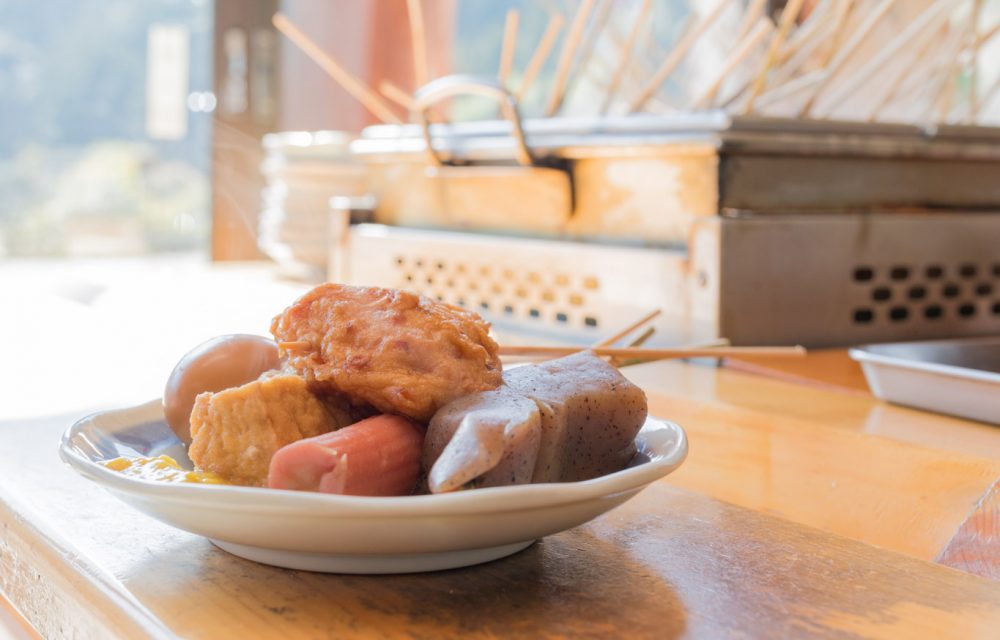 Drive-in Hikichibashi is a drop-in place for people driving by car and touring by motorbike on National Highway 33.
Oden is its specialty. You should try its home-cooked Japanese dishes.
As well as oden, this drive-in restaurant offers a wide variety of dishes, such as ayu and amago trout grilled with salt, udon and soba noodles, set meals and donburi dishes.
The slopes across the road from the restaurant are planted with peach flower trees, making them a popular flower viewing place in the spring.